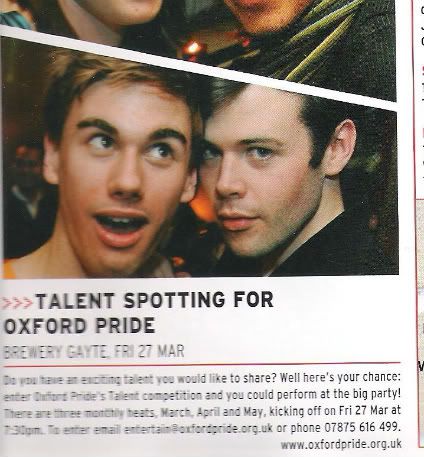 Flipping through some local homo rag, none could be more surprised than me to find my image - a particularly serious one at that - being used to promote Oxford Pride. Surprised or joyous-looking expression on boy to my right courtesy of innumerable gin & tonics in easily breakable plastic cups at preceding LGBT gathering. Said gin always served with a tangible air of bitterness and recrimination, in a striplit dungeon deep in the bowels of one of Oxford's more illustrious colleges.
Please notice this season's fashionable pale skin ('Oxbridge tan') accessorised with exclusive under-eye bags courtesy of computer-squinting and terrible, headache-inducing non-lights in the Bodleian library.
Poseurish reaction to camera notwithstanding, it's always nice to find one's image in the local rag, and I will spend a couple of hours at Oxford Pride this year, largely on the principle that visibility is a good thing.